INSTITUT FÜR
TOXIKOLOGIE

ARBEITSGRUPPE
WÄTJEN

GRADUIERTENKOLLEG
1427

GRK-PROJEKT-2

GRK-PROJEKT-6

TOXIKOLOGIE VON
NAHRUNGS-
ERGÄNZUNGSSTOFFEN

MYKOTOXINE

ANTI-TUMOR-
SUBSTANZEN AUS
TRAD. HEILPFLANZEN

ANTI-TUMOR-
SUBSTANZEN AUS
MARINEN
ORGANISMEN

SCHWERMETALL-
TOXIKOLOGIE



Projekt MYKOTOXINE
Enniatins are mycotoxins which have important impact on human health, e.g. as contaminants of cereals, but also are discussed as possible anti-cancer agents. We investigated toxic effects of enniatins A1, B and B1 isolated from Fusarium tricinctum on different cancer cell lines. The enniatins showed moderate activity in HepG2 and C6 cells (EC50-values approximately 10 - 25 µM), but were highly toxic in H4IIE cells (EC50-values approximately 1 – 2.5 µM). In H4IIE cells, all enniatins increased caspase 3/7 activity and nuclear fragmentation as markers for apoptotic cell death. Enniatin A1, enniatin B1, and, to a lesser extent, also enniatin B decreased the activation of ERK kinase (p44/p42), a mitogen activated protein kinase which is associated with cell proliferation. Furthermore, enniatins A1 and B1, but not enniatin B were able to inhibit moderately TNF-a-induced NF‑kB activation. Screening of 24 additional protein kinases involved in signal transduction pathways (cell proliferation, survival, angiogenesis and metastasis) showed no inhibitory activity of enniatins. We conclude that enniatins A1 and B1 and, to a lesser extent, enniatin B may possess anticarcinogenic properties by induction of apoptosis and disruption of ERK signalling pathway. Further analysis of these substances is necessary to analyze their usefulness for cancer therapy.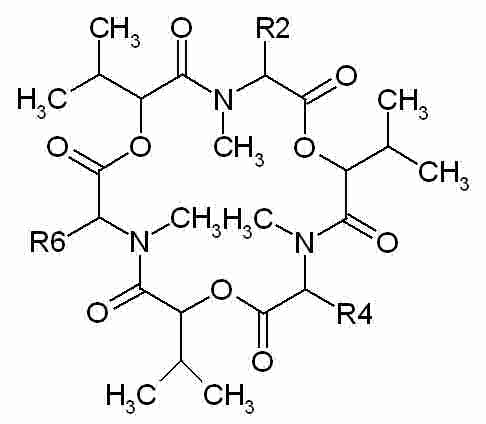 GENERAL STRUCTURE OF ENNIATINS
INTRODUCTION: Enniatins are fungal metabolites first isolated by Gäumann et al. [1] from Fusarium orthoceras var. enniatinium. They may have an underestimated impact on human health as food contaminants of e.g. cereals, since several reports showed a contamination of human and animal food with these compounds [2, 3, 4]. Therefore, further analysis of these compounds becomes increasingly important [5].
We analysed cellular effects of enniatins A1, B and B1 isolated from Fusarium tricinctum. The compounds are cyclic hexadepsipeptides, which consist of alternating a-hydroxy-D-isovaleric and N-methylamino acid moieties. Enniatin B is a symmetrical compound, it contains three N-methyl-L-valine and three a-hydroxy-D-isovaleric molecules, enniatin B1 contains one moiety of N-methyl-L-isoleucine, two of N-methyl-L-valine and three a-hydroxy-D-isovaleric acid residues. Enniatin A1 is formed by one part N-methyl-L-valine, two parts N-methyl-L-isoleucine and three parts a-hydroxy-D-isovaleric acid.
Enniatins are known to have antimycobacterial activity as well as insecticidal activity. They inhibit various enzymes e.g. acyl-CoA-cholesterol-acyl transferase [6] and cyclic nucleotide phosphodiesterase. Enniatins have furthermore ionophoric properties [7, 8, 9]. Kamyar et al. [10] showed that enniatins easily incorporates into the cellular membrane in which it forms cation-selective pores. The enniatins act as ionophores by forming dimeric structures that transport monovalent ions across membranes, particularly mitochondrial membranes, and uncouple oxidative phosphorylation [11].
Beside these effects, also an anticarcinogenic action of enniatins was suggested by Dornetshuber et al. [12] showing a selective toxicity of enniatins against cancer cell lines. Cell death was mediated by induction of apoptosis. Here we analyse toxic effects of enniatins A1, B, and B1 isolated from Fusarium tricinctum in different cancer cell lines to further elucidate the anticancer effects of these substances. Besides the proapoptotic effects analysed previously by Dornetshuber et al. [12], we evaluated also the effect of these compounds on NF-kB and MAPK signal transduction pathway, to get further insights in their cellular action.