Projekt ANTI-TUMOR-SUBSTANZEN AUS MARINEN ORGANISMEN
With an increasing cancer rate worldwide there is an urgent quest for the improvement of existing and discovery of new anti-cancer drugs. Natural products are an important source of cancer chemotherapy in medicine. About two thirds of anti-cancer drugs approved today are in fact either natural products or have been developed on the basis of knowledge gained from natural products (Newman et al., 2003). Prominent examples for the success of natural products originally obtained from higher terrestrial plants that are used clinically to fight cancer include the Vinca alkaloids from Catharanthus roseus, the DNA topoisomerase I inhibitor camptothecin and derivatives from Camptotheca acuminata, taxol from Taxus brevifolia, and the lignan podophyllotoxin (which served as a model for semisynthetic derivatives such as etoposide) isolated from Podophyllum peltatum (Boik, 2001).
All of the latter compounds have been isolated from higher plants. The success of natural products for treatment of cancer is, however, not limited to compounds derived from terrestrial organisms as demonstrated recently by the admission of the marine derived anti-cancer drug Trabectedin (YondelisR) for treatment of advanced adult soft-tissue sarcomas. Trabectedin (also called ecteinascidin-743 or ET-743) is an alkaloid originally isolated from the marine tunicate Ecteinascidia turbinata that occurs in the Caribbean as well as in the Mediterranean Sea. Trabectedin binds to the minor grove of DNA from cancer cells and interrupts the cell cycle thus causing death of cancer cells by apoptosis. Large scale production of Trabectedin for use in the drug market is not dependent on existing natural resources of the tunicate but proceeds by semi-synthesis starting from the microbial precursor Safracin B that is obtained through fermentation of Pseudomonas fluoresecens.
Toxicological evaluation of natural product libraries: Cellular effects on oxidative stress, apoptosis, and intracellular signal transduction processes
Wätjen/ Chovolou (Institute of Toxicology, Heinrich-Heine-University Düsseldorf)
Cooperation partner: Prof. Hao (Department of Toxicology, Peking University)
Marine organisms are a rich source of chemically unique and biomedically powerful secondary metabolites. The pharmacological potential of these compounds e.g. for tumour therapy is increasingly recognized. We start a toxicological evaluation of marine compound libraries (in most cases pharmacologically poorly or not investigated) to identify compounds/lead structures as potential anticancer drugs.
The determination of the cellular/molecular targets as well as an estimation for the usefulness as therapeutical anticancer agents will be will be analysed using a set of different investigations. Discrimination between apoptotic and necrotic cell death is very important in the development of novel anti-cancer drugs (prevention of inflammatory responses), therefore extensive analysis of the apoptotic/necrotic properties will be performed. Cellular uptake and metabolism of the compounds will be determined as well as effects of the compound on oxidative stress. Since misregulated gene expression is a basic cause of many diseases including cancer, our research targets at the identification of natural compounds that specific modulate distinct signalling pathways e.g. MAP-kinases, NFkB and FOXO (family of forkhead transcription factors). An overall estimation of genes modulated should be obtained by microarray analysis (Whole Genom Array) and will be further verified by consecutive experiments (e.g. RT-PCR, Western blot). Screening of kinases modulated by marine products will be performed using a Kinase Microarray, specific effects will be verified in Western blot experiments using phospho-specific antibodies. For the successful identification of bioactive natural compounds selected target-directed screening assays will be performed which allow a rapid and specific identification of desired actions. Therefore, we developed cell-based screening assays with genetically engineered cells in order to identify new modulators of distinct signalling pathways involved in carcinogenesis (reporter gene assay). The results will permit the identification of compounds or lead structures from natural sources that modulate signalling pathways deregulated in cancer cells and would be therefore promising anticancer drugs.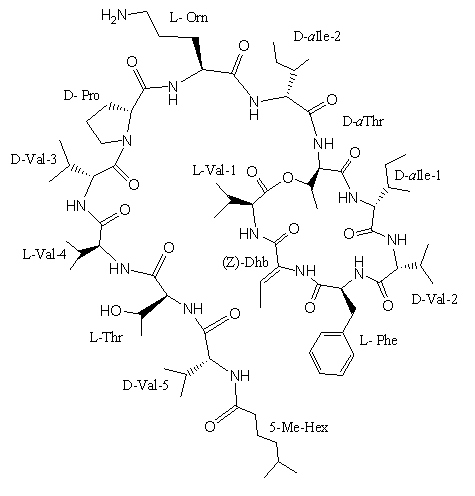 structure of kahalalide derivate
Two new cyclic depsipeptide derivatives, kahalalides R (1) and S (2), together with two known congeners, kahalalides F (3) and D (4), were isolated from the Indian sacoglossan mollusc Elysia grandifolia. The structures of the new compounds were unambiguously established based on NMR spectroscopic (1H, 13C, COSY, HMBC) and mass spectrometric (FAB-MS, ESIMS, MALDI-TOF/PSD) data, which also included Marfey amino acid analyses. The new derivative kahalalide R was found to exert comparable or even higher cytotoxicity than the potential drug candidate kahalalide F toward the MCF7 human mammary carcinoma cell line.